I've had a great time with this aircraft and with several others. Here are just a few shots showing examples of the classic jet world. It was a real exciting 12 years!!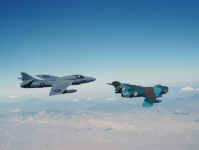 The first is very special one for me. It shows me and a friend over Edwards AFB after completing a number of sorties with the USAF Test Pilot School. It was taken from a T-38 rolling over us!
But the real treat was getting a chance to fly the F-16 and T-38 afterwards.
I'm in the MiG-17 and my good friend Brian Grant is flying my two seat Hawker Hunter T8C. Brian has over 7,500 hours in Hunters and can be seen now flying the Sea Vixen in England. This Hunter is the same one we flew across the North Atlantic from England in 1995....a historical first crossing of the Atlantic by any Hawker Hunter! We had company...another single seat GA11 that I owned. They have both since been sold, but the Hunter is still one of the most beautiful and best flying classic jets around. It was a true privilege to have owned and flown it!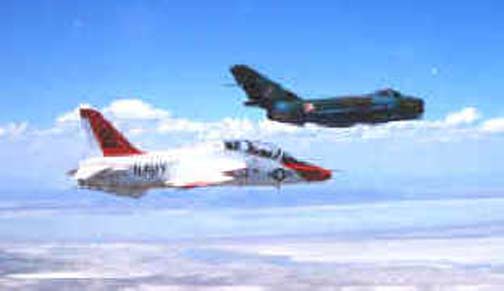 The next is of a join up with a T-45 at Fallon, Nevada.
It was taken during the Top Gun graduation day. I was often invited as a guest "player" for the final 1-v-1 flight.
The pilot flying the T-45 was the squadron commander for VT-21 in Texas. Afterwards he and one of his students in the back seat went out to "wax" an F5 being flown by the graduating instructor from that year's Top Gun class. I have a copy of the entire gun camera and accompanying audio. The T-45 pilot was overjoyed. I wonder what the graduating student instructor in the F-5 was saying to himself?
This last shot is for those of you who decide they don't want to purchase a classic MiG-17, but still like it as much as me. What do you see below?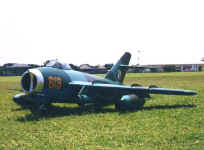 Wrong! It's actually a jet powered flying model of my aircraft that was built by a friend of mine. A real show-stopper!
It is about 3 feet long, and N619M was used extensively when molds for the model were made. Recognize the paint scheme and nose number? The model won second place at a major, national competition.
The craftsman's is my friend, Tad Krzanowski, and he is president of Golden West Models, located in Agua Dulce, California. He makes and sells these models and many other great jet models. All of them use real kerosene-burning model turbines which he also sells. Golden West Model's e-mail address is gwmodels@aol.com.